The Professional Compass
The Professional Compass is a tool for rapid professional potential analysis
As a coach or HR manager, potential analysis of your counterpart is usually the first step in a personal consultation, a coaching or in recruitment interviews.
What if you could do this analysis of the actual situation and possibilities in a simpler, faster, more acceptable, more encouraging and more trusting way?
With the Professional Compass, this is now possible. Expand your qualification with a standardized approach for greater efficiency - and recognize at a glance who is sitting in front of you and how they make the most of their potential. The actual advice within the scope of your individual coaching, training and seminars can start faster and you have the already completed and the possible development of your coachee firmly in view.
Multipart online questionnaire in Professional Compass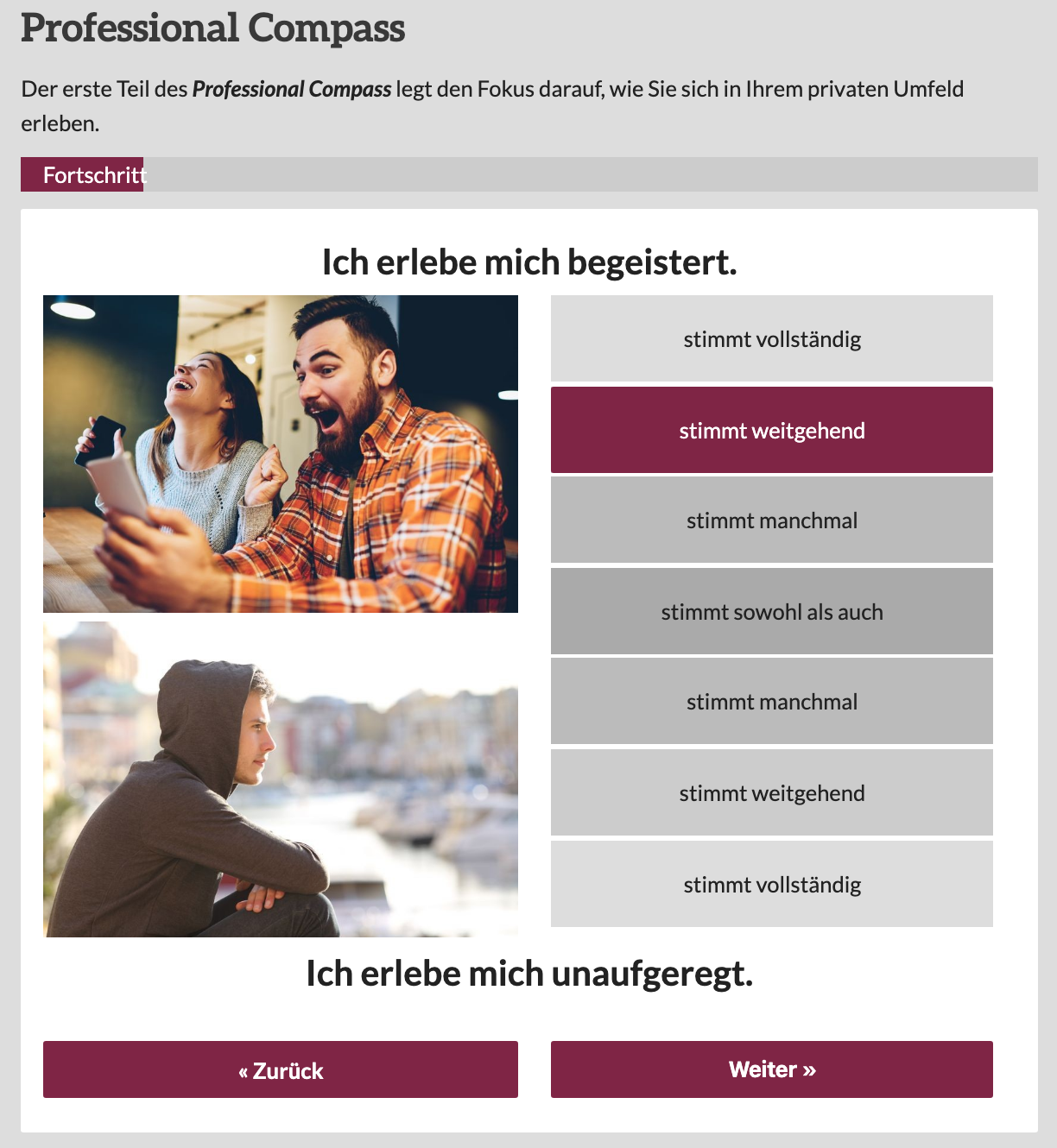 Sample of the first set of questions in the Professional Compass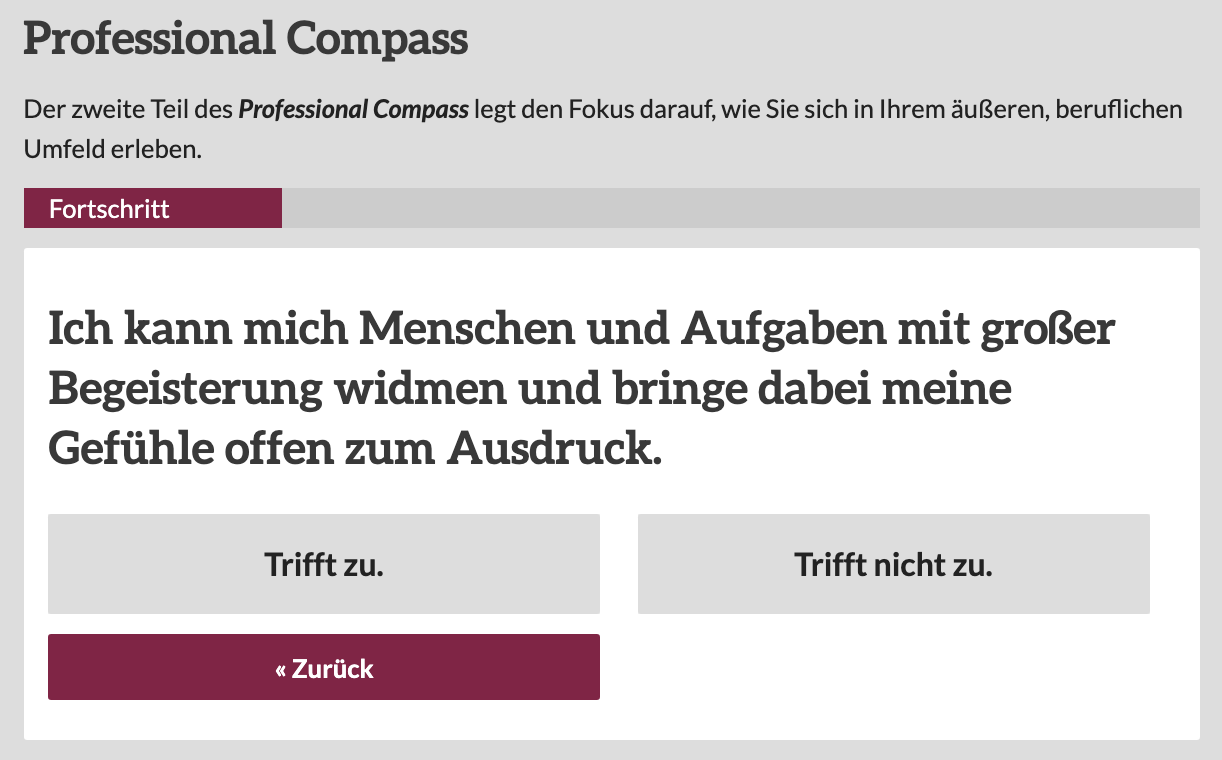 Sample of the second set of questions in the Professional Compass
Answer professional questions faster with the Professional Compass
Why am I the way I am?
What potential is created in me?
To what extent do I use it?
How did I become who I am today?
And why do I behave this way in certain situations?
Why are people so similar and yet so different?
Why do I get along better with some people than with others?
In the professional environment, there are questions from HR managers and executives:
What kind of "type" is the employee or applicant?
Does it fit the company and its culture, the team and the tasks?
Of course, the person is asking similar questions himself.
The Professional Compass helps you to answer these questions very efficiently.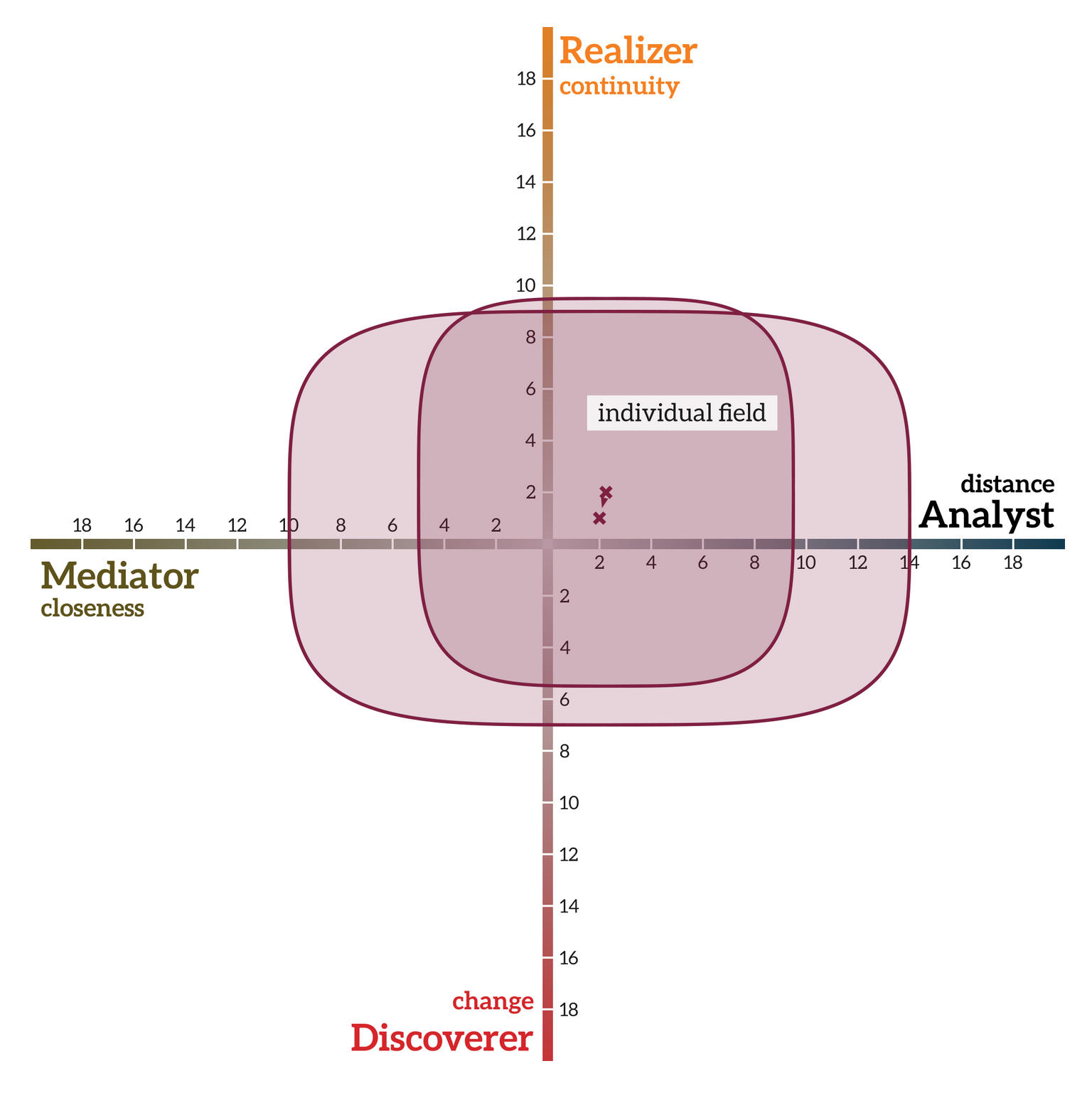 Example of the graphical evaluation of the Professional Compass
How the Professional Compass can do that
The Professional Compass enriches your individual coaching, seminars and training as a scientifically sound tool. It supports a systemic and process-oriented way of working. It shows your client in an appreciative way their individual and basic personality shares and potentials.
After your coachee has answered detailed, purposeful questions about its characteristics and inclinations both "in the rearview mirror" (characteristics and influences) and forward-looking (image and effect in the professional environment), you will receive a meaningful evaluation:
graphical and numerical representations of the personality traits
multi-page, individual analysis in text form
Causes of current problems can be quickly identified and developed to positive. The simple presentation of results and the interpretation aids ensure a fast acceptance of the Professional Compass results. You can define, target and set off with your client much faster.
To quickly determine the status quo, you can use the Professional Compass both at the beginning of a developmental process as well as to control progress.

User-oriented interface for managing your coachees
The strengths of the professional Compass:
contextually describes the basic personality traits (strengths and talents) of your participants
grasps situatively developed signs of the personality in professional regard
makes visible already carried out developments
resource-oriented and restorative instrument by representation free of value of the personal development
gives instructions to possible unterdemand or excessive demand
indicates possible developing perspectives
Where to use the Professional Compass
professional reorientation and career planning
Business start-up consultancy
Personality development
strategic personnel development and talent programmes
Conflict handling and mediation
Management development
Communication and sales training
Work-life integration, life balance and stress management
What Professional Compass brings to your customers
With a clear structure and unambiguous results, you can broaden your view and see:
talents and skills of your client
personality traits currently used in the professional environment
already completed development steps
untapped potentials, facilities and capabilities
the current "energy consumption" given the current life situation
possible or even necessary development goals and changes (private and professional)
The results of the Professional Compass promote a more positive, self-reflective self-perception. They help the coachee to better understand his own behavior - and to control it more consciously to his advantage. With the Professional Compass, he learns to better understand and value the diversity of other people.
Working with the Professional Compass
Please also read our product presentations about [Individual Compass] (/products/individualcompass) and [Team Compass] (/products/teamcompass).