The Individual Compass
A tool for quick analysis of personal talents
In order to start with your actual work as a coach or HR manager, a potential analysis of your counterpart is usually the first step.
What if you could do this analysis of the actual situation in a simpler, faster, more acceptable, more encouraging and more confidence-building way?
With the Individual Compass you can do just that: You expand your competence with a standardized approach for greater efficiency - and thus recognize at a glance who is sitting in front of you. The actual advice within the framework of your individual coaching, training and seminars can start faster and you have the characteristics and skills of your coachee firmly in view.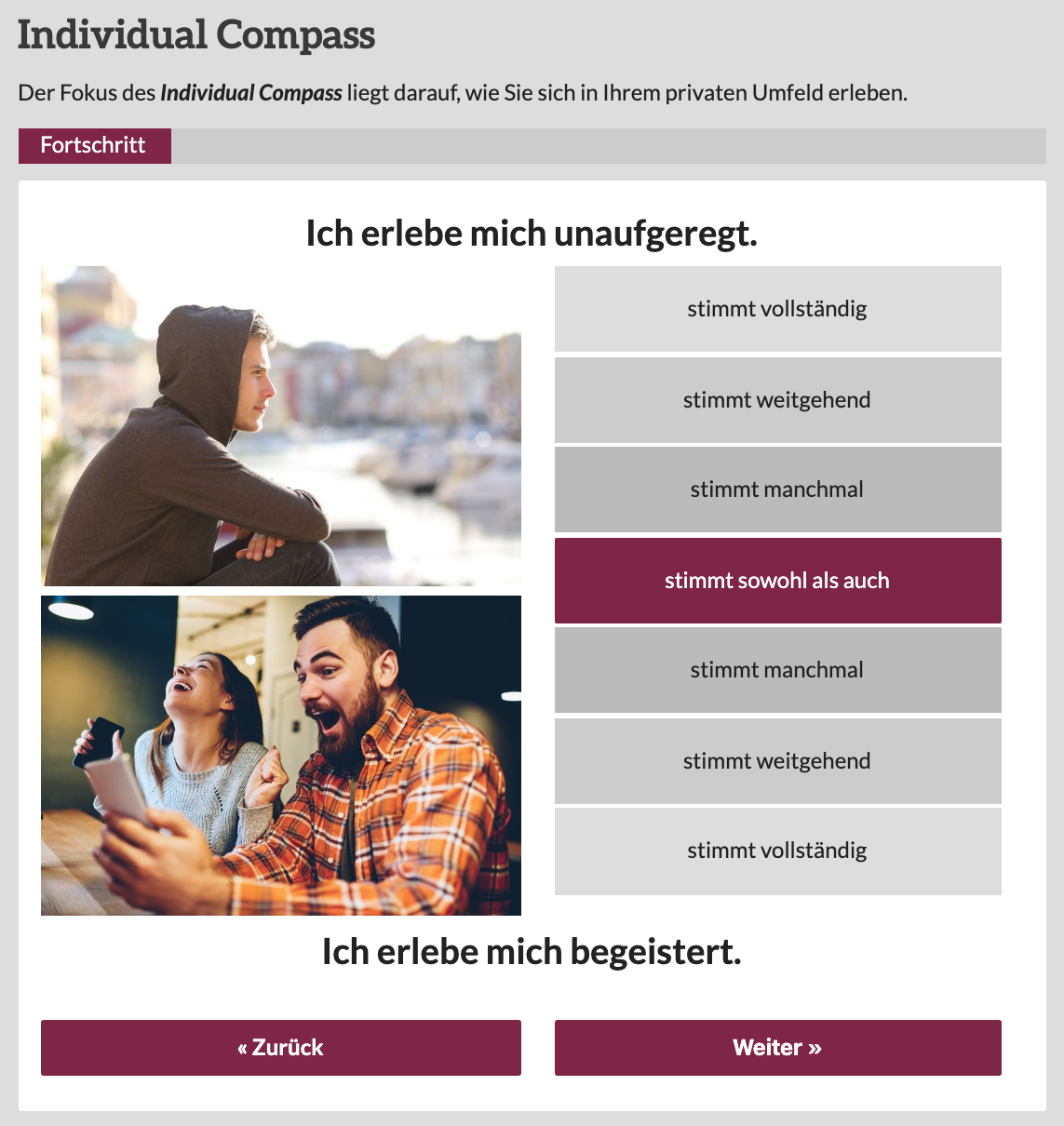 Example of the online questionnaire
Answer important questions faster with the Individual Compass
Why am I the way I am?
What potential is created in me?
How did I become who I am today?
And why do I behave this way in certain situations?
Why are people so similar and yet so different?
Why do I get along better with some people than with others?
The Individual Compass helps you to efficiently get answers to these questions.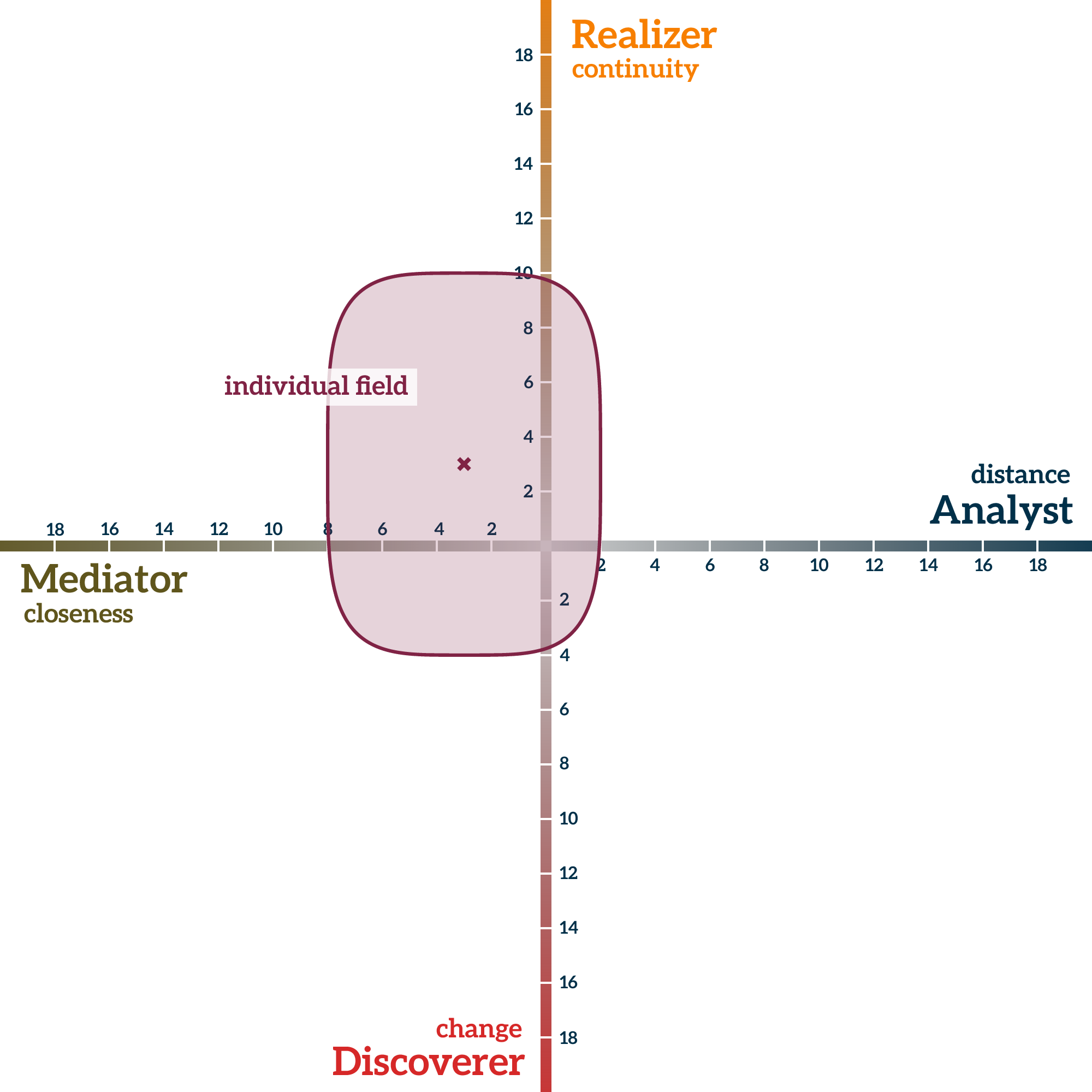 Example of graphical evaluation
How the Individual Compass can do that
The Individual Compass is scientifically sound and enriches your individual coaching, seminars and training sessions. It supports a systemic and process-oriented way of working. It shows your client their individual and basic personality shares and potentials in an appreciative way.
After your coachee has answered a detailed, targeted catalog of questions about his/her properties and inclinations, you will receive a meaningful evaluation:
graphical and numerical representations of the personality traits
multi-page, individual analysis in text form
Causes of current problems can be quickly identified and developed to the positive. The simple presentation of results and the interpretation aids ensure quick acceptance of the Individual Compass results. You can define, target and set off with your client much faster.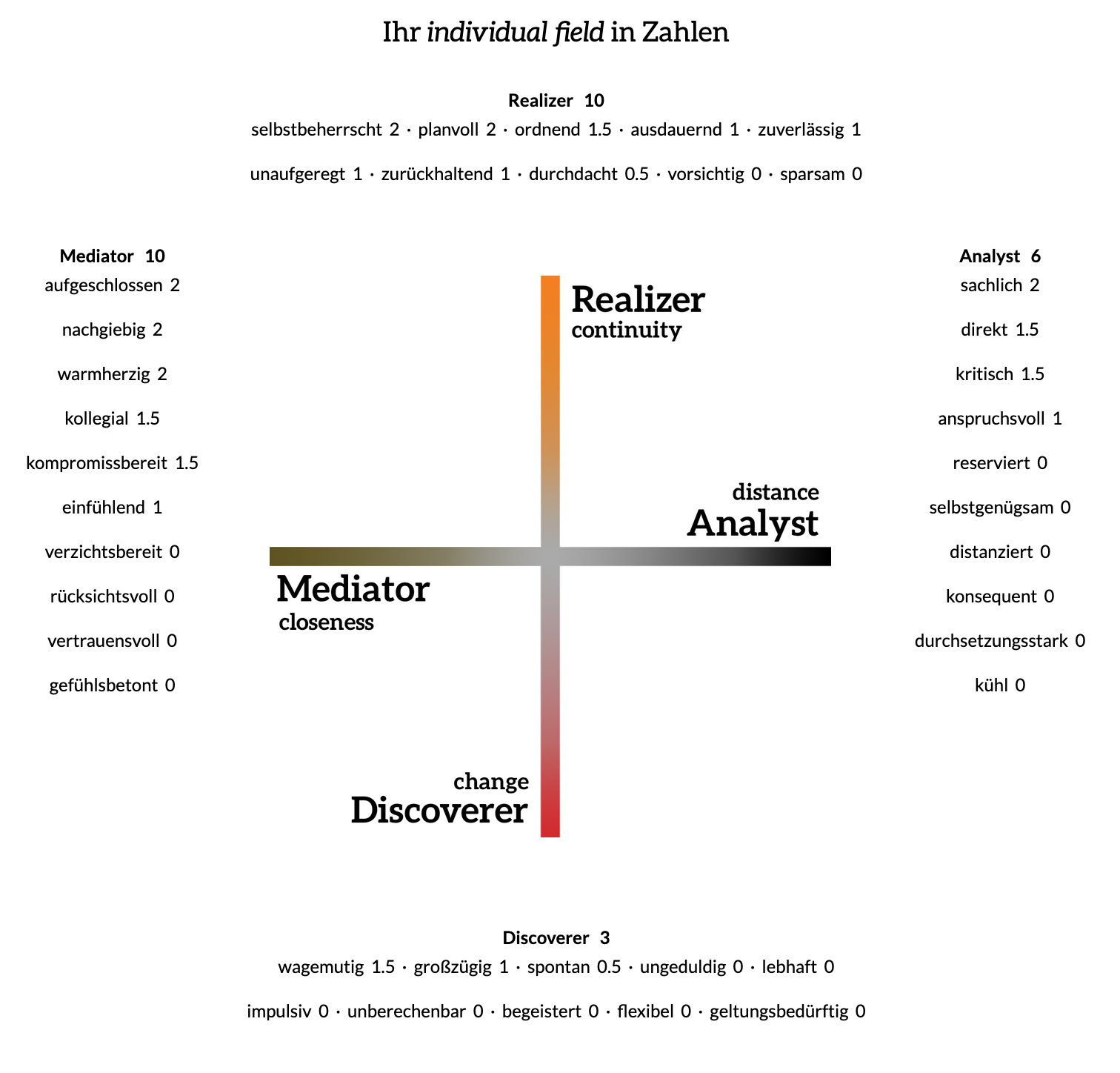 Example of numerical evaluation
The strengths of the Individual Compass:
contextually describes the basic personality signs (strengths and talents) of your participants
a resource-oriented and strengthening instrument through value-free representation of personal assets
shows possible development perspectives
Where to use the Individual Compass
In personality development
Optimize communication behavior
Strengthening self-esteem
Improving the sovereignty experienced
When working with students/young people on the topics
Personal preferences
First professional orientation
Cooperation and team orientation
Conflict behavior
In private areas of life
Handling conflicts
Mediation
Improving understanding
Increase assertiveness
What the Individual Compass brings to your customers
Through the clear structure and unambiguous results, you expose the view of your client's talents and abilities. They help them to better understand their own behavior - and to control it more consciously to their advantage. This promotes self-reflection and above all more positive self-perception. With the Individual Compass, your coachee learns to better understand and value the diversity of other people.
Try the Individual Compass
Try it: Apply for a free membership and enjoy a free Individual Compass for your personal potential analysis.
Please also read our introductions to Professional Compass and Team Compass.